Australian High Commission, Port Louis

Follow us on Facebook / Suivez-nous sur Facebook
Australian High Commission in Mauritius on Facebook
To learn more about Australia's engagement in Mauritius, Seychelles, Madagascar and Comoros, follow us on: www.facebook.com/ahcportlouis
Pour découvrir les actualités australiennes à Maurice, Seychelles, Madagascar et Comores, suivez nous sur: www.facebook.com/ahcportlouis

AUSTRALIA AWARDS (Masters and Short-term Scholarships) - Apply Now!
A special information session on the Australia Awards will be held at the University of Mauritius on Saturday 19 November, from 10am - 12pm. Members of the public, private and NGO sectors interested in applying for an Australia Award (Masters and Short-term scholarships) will be able to learn more about these prestigious scholarships and meet former awardees who can provide essential advice on the application process.
Applications for the presitigious Australia Awards (Masters and Short-term Scholarships) are currently open.
Applications will close on 15 December 2016 for the Masters scholarships and 15 January 2017 for the short-term scholarships. Visit www.australiaawardsafrica.org for more information.
Visa Applications for the Christmas Holiday Must be Lodged by 23 November 2016
2017 Holiday Season
If you are planning to travel to Australia over the holiday periods, we strongly encourage you to lodge your Visitor (subclass 600) by Wednesday the 23rd of November. The Australian Immigration Office in Port Louis cannot guarantee visa applications lodged after this time will be processed before the New Year.
Applicants are encouraged to lodge online through ImmiAccount.
For applicants requiring urgent travel due to compassionate and compelling reasons (eg serious/terminal illness or a death in the family in Australia) during this period should contact the Australian Immigration Office by email to immigration.portlouis@dfat.gov.au . Please note already booked trips, financial losses incurred or late visa applications will not be considered as compassionate or compelling grounds for urgent travel.
Mauritian and Malagasy Professionals awarded Australia Awards (Masters scholarships) to pursue their studies in Australia in 2017
The Australian Government has selected 5 professionals from Mauritius and 4 professionals from Madagascar to take up Australia Awards Scholarships at Masters level at Australian universities from January 2017.
The awardees are: [for Mauritius] – Ms Sabina Jugurnauth (Ministry of Gender Equality, Child Development and Family), Ms Rajeshreebhye Mahadea-Nemdharry (Mauritius Sugarcane Research Institute), Mr Mirnal Mungra (Central Water Authority), Mr Judex Payandy (Ministry of Education), Ms Lila Seewoosurrun-Sadaful (Ministry of Housing and Lands) and [for Madagascar] – Mr Tantely Andriamaharo Ny Aina (Ministry of Fisheries), Ms Herizo Harimalala Tsiverisoa (Ministry of Mines), Mr Jean Rakotonirina (Ministry of Justice) and Ms Nantenaina Rasolonirina (National Office of Mines).
Ms Harimalala Tsiverisoa from Madagascar was also awarded the Sandra Vegting Leadership Award which was established by the Australian Government to remember the life and achievements of HE Sandra Vegting, Australia's High Commissioner to Mauritius from 2011-2014. The Sandra Vegting Leadership Prize is awarded annually to the most outstanding Australia Awards - Scholarships recipient from Mauritius and Madagascar. The prize comprises leadership training and support for the successful candidate in addition to a Master's program in their chosen field.
In order to prepare the recipients to live and study in Australia, the Australian Government is hosting a two-day workshop at the Labourdonnais waterfront Hotel from 20 – 21 October 2016. At the workshops, recipients will be thoroughly briefed on how to successfully relocate and how to approach their studies in Australia. Recipients will also discuss their plans to use their new skills to contribute to their countries' development on their return to Africa upon completion of their studies.
"The Australian Government's objective is to provide high-quality education and training to talented Mauritian and Malagasy professionals who will be in a position, on their return home, to make an important contribution to national development," says HE Susan Coles, Australian High Commissioner.
A number of Australia Awards Fellowships in Science centre capacity-building leadership training, Enhancing fishery management capacity in the Indian Ocean region and Extractive Industries: Effective Governance, Taxation and Financial Management were also recently awarded to Mauritians, Seychellois and Malagasy nationals.
Since 2011, Australia has offered more than 3,700 Australia Awards to African scholars and professionals in areas where Australia is recognised as having world-leading expertise, including agriculture and food security, health, mining and natural resource management, public policy (including public private partnerships, blue/ocean economy) and water and sanitation.
The Australian Government opened applications for the latest round of Australia Awards Scholarships (Masters Level) and Australia Awards Short Courses (short-term scholarships) on 1 September 2016.
Closing dates for the scholarships are as follows:
Australia Awards Scholarships (Masters Level): 15 December 2016
*Applications will be considered for study in sectors identified by Mauritius as development priorities including in the field of areas of Agricultural Productivity, Extractives, Public Policy (particularly blue/ocean economic policy, including trade policy)
Australia Awards Short Courses (short-term scholarships): 15 January 2016
* Applications will be considered for study in sectors identified by Mauritius as development priorities including in the field of areas of Agricultural Productivity, Extractives and Public Policy
Australia Awards promotes equal participation by both women and men with the aim of achieving gender balance. The initiative also aims to ensure that people with disability are given a fair and equal opportunity to compete for and obtain scholarships. The Australian Government has put arrangements in place to support applicants and Awardees requiring specific assistance.
Since 2011, 121 Mauritians and 98 Malagasy have been awarded Australia Awards.
More information on Australia Awards in Africa is available on - www.australiaawardsafrica.org
COMMUNIQUE DE PRESSE
Gouvernement australien : Aide d'un montant de 10 million de dollars australiens pour les victimes de la sécheresse en Afrique australe et Madagascar
Ambassade d'Australie, Port Louis - 8 septembre 2016

Le gouvernement australien accordera un soutien supplémentaire pour lutter contre les pénuries aigues causées par les effets graves du phénomène El Niño dans la région de l'Afrique australe et Madagascar.

Le 2 septembre 2016, l'Honorable Madame Julie Bishop MP, Ministre australienne des affaires étrangères a annoncé que l'Australie allouera un montant de 10 million de dollars australiens au Programme Alimentaire Mondial (PAM) pour la mise en place de l'assistance alimentaire et nutritionnelle auprès de 11.9 million de victimes de la sécheresse en Afrique australe et Madagascar. Pour Madagascar, une enveloppe de plus de 1.6 million de dollars australiens est prévue pour la mise en place du programme sur le terrain.

Parmi les pays les plus affectés dans la région qui bénéficieront d'un appui direct du financement additionnel australien au PAM se trouvent Madagascar ainsi que les pays d'Afrique australe dont le Lesotho, le Malawi, le Mozambique, le Swaziland et le Zimbabwe.

L'Afrique australe fait face actuellement à une saison de végétations la plus sèche depuis 25 ans, due aux effets El Niño, aggravant davantage les effets de sécheresse de la saison précédente. Par conséquent, 32 million de personnes dont 2.7 million d'enfants souffrant de malnutrition grave dans la région n'ont pas accès à des sources de nourriture.

L'Australie est activement engagée dans les initiatives globales visant à mitiger l'impact El Niño qui a eu aussi un impact dévastateur dans la région Indopacifique. L'Australie a principalement axé son intervention à travers le financement de denrées alimentaires de première nécessité, à valeur nutritionnelle et l'assistance aux moyens de subsistance visant les pays les plus touchés dans le Pacifique et sud-est asiatique ainsi que la Corne de l'Afrique.

À travers son programme d'aide, le gouvernement australien investit également dans les initiatives visant à améliorer la préparation et la résilience à la variabilité climatique des populations locales en les aidants à se préparer pour les futures périodes de sécheresses.

La présente allocation porte le total de l'aide financière australienne pour les pays affectés par El Niño à 46 million de dollars australiens.

Australia and the Association Mauricienne des Femmes Chefs d'Entreprise partner for Women's Economic Empowerment in the Indian Ocean

Following the successful launch of their Coaching and Mentoring programme for women entrepreneurs in the Indian Ocean in the Seychelles, Mauritius and Rodrigues in 2015, the Australian High Commission and the Association Mauricienne des Femmes Chefs d'Entreprise continued their programme today with a workshop on "Matching of Mentors & Mentees for Women Entrepreneurs in Mauritius". This second stage of the project also included the launch of a manual for women entrepreneurs of the Indian Ocean.

Participants included women working in the sectors of printing /graphic design; jewellery; food/snacks; textile factory ; beauty and hairdressing; training and coaching and import/export.
The Coaching and Mentoring program for women entrepreneurs in the Indian Ocean is a specially designed program aimed at accompanying women entrepreneurs to grow their existing enterprises, develop opportunities to move into main stream development and help them overcome barriers, allowing them to move from informal to more formal sectors, or for example, into export markets.

The programme is being run by leading Australian woman entrepreneur, Oceanic Regional Commissioner for the World Women Heads of Enterprises (FCEM) and Vice President for the International Alliance of Women, Ms Diane Tompson and Ms Aline Wong, Regional Commissioner for the Indian Ocean Region of the World Women Heads of Enterprises (FCEM).

Women entrepreneurs in Comoros and Madagascar will join the programme later this week as it is launched by the High Commission and Association Mauricienne des Femmes Chefs d'Entreprise in these two countries.
(From L to R) - Mrs Margaret Pan Sin (Past President of the AMFCE), Mrs Marie France Chamary (President of the AMFCE), HE Susan Coles (Australian High Commissioner), Mrs Diane Tompson (Australian woman entrepreneur, Oceanic Regional Commissioner for the World Women Heads of Enterprises (FCEM) and Vice President for the International Alliance of Women) and Mrs Aline Wong (Regional Commissioner for the Indian Ocean Region of the World Women Heads of Enterprises (FCEM) with copies of the newly launched manual
Direct Aid Program (DAP) - Call for Applications

Applications for funding under the Australian High Commission's Direct Aid Program (DAP) are now opened.
The Australian High Commission encourages NGOs and local government agencies from Mauritius, Rodrigues, Comoros, Madagascar and Seychelles to send project proposals for consideration by latest 10 August 2016.
The Australian High Commission\'s Direct Aid Program (DAP) is a small grants scheme designed to assist community organisations working in fields such as poverty alleviation, education, sanitation, health, human rights, rural development and conservation.
Projects must have a tangible and direct development outcome. Priority is given to proposals that help alleviate poverty in a sustainable way; contribute to skills development; promote women's social and economic empowerment; address significant community health issues; and/or support the needs of children, youth, disabled persons and other disadvantaged groups.
Organisations can apply for funding of any amount up to AUD60,000 per project.
DAP funds are project based and ARE NOT used for items such as: salaries, purchase of property (including vehicles, land, or a building), rent, electricity charges, transport, international travel, office running costs, other administrative and organisational costs such as general promotion or monitoring and evaluation, micro-credit schemes, commercial ventures or cash donations.
Applications should be submitted in English and in French. Please complete the DAP Application Form that is located in the 'Development Cooperation section' of our website under the main menu and send this to the High Commission with requested information including any invoices / quotes for the items outlined in your proposal. (DAP normally operates by funding specific quotations. If this does not apply to your project please ensure that your proposal has a complete budget.)
Completed applications can either be mailed or sent by email to: The Direct Aid Program Coordinator, Australian High Commission, 2nd Floor, Rogers House, President John Kennedy Street; Port Louis, dap.portlouis@dfat.gov.au (Note: while email submission is preferred, please note that emails exceeding 4mb will not be received).
Note: Only successful applicants will be contacted.
Black Screen Africa Film Festival - Australia's First Indigenous Film Festival in Africa
The High Commission hosted the first Indigenous Film Festival in Mauritius from 1 - 3 July 2016. It was exciting moment for the High Commission as we welcomed award-winning Australian film director, Rachel Perkins, as our special guest for the film festival. Highlights of our festival included workshops run by Ms Perkins for university students and local film makers; a pubic talk by Ms Perkins before the screening of her docu-dram tv film, MABO and a special school screening of an Indigenous animated film. A number of public screenings were organised around the island, including an open air screening at the Port Louis waterfront.
It's was a great 3 days of inspirational films and rich exchanges. Thank you Mauritius and "rendez vous à l'année prochaine!"
We would like to thank our partner, the Mauritius Film Development Corporation and our sponsors:
- Air Mauritius
- La Sentinelle
- Event Creators
- University of Mauritius
- Charles Telfair Institute
- Le Caudan Waterfront
- Institut Francais
- Hotel Tamarin
- Porteurs d'Images
The Australian Government Congratulates Seychelles on their 40th Anniversary of Independence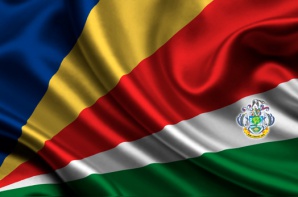 Australia conveyed congratulations to Seychelles on the celebration of their National Day of 29 June with a letter to President Michel from Australian Governor General His Excellency Sir Peter Cosgrove AK MC (Retd).

Félicitations pour la Fête Nationale de la République de Madagascar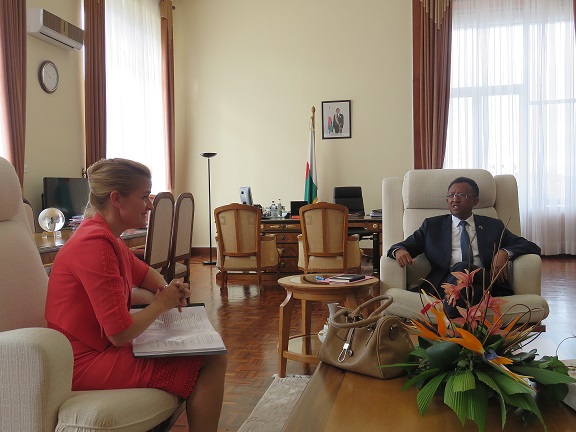 L'Australie a félicité la République de Madagascar à l'occasion de sa Fête Nationale du 26 juin par le biais d'une lettre au président Hery Rajaonarimampianina du Gouverneur général australien Son Excellence Sir Peter Cosgrove AK MC (Retd). Madame l'Ambassadeur S.E. Susan Coles a remis la lettre lors d'une rencontre avec le président en marge de la Fête Nationale, durant la récente conférence de l'ADFA.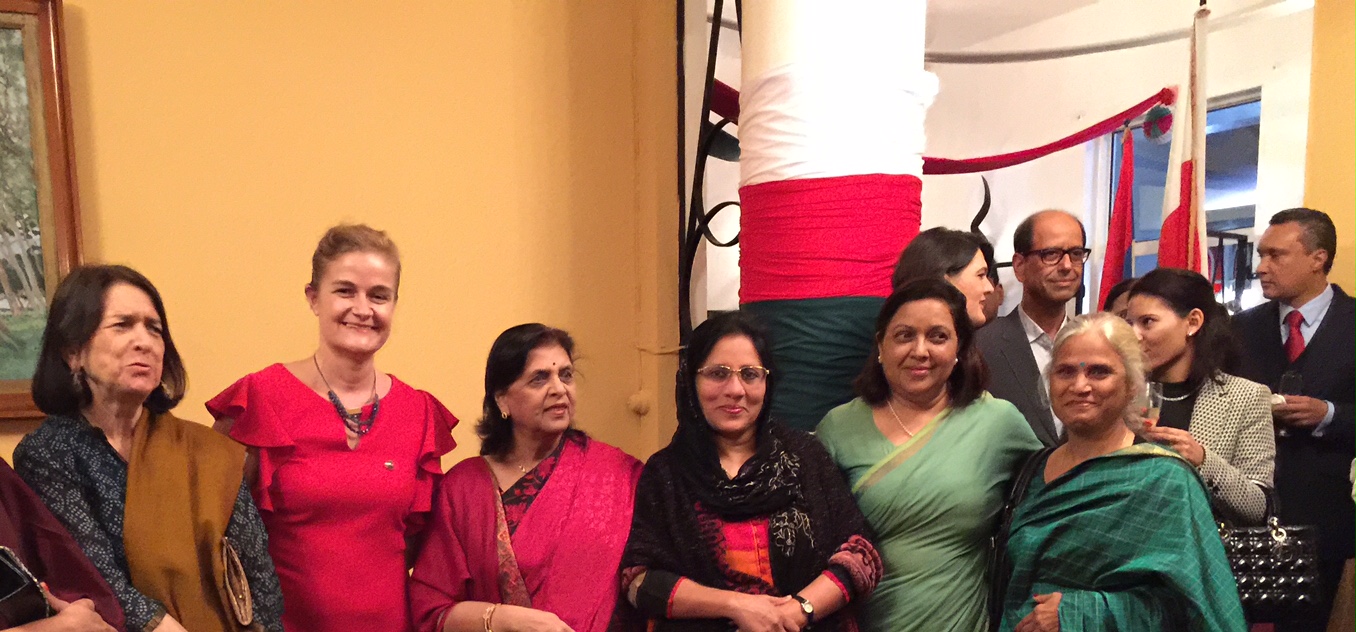 Madame l'Ambassadeur S.E. Susan Coles félicite le peuple de la République de Madagascar pour La Fête Nationale du 26 Juin. Elle s'est jointe aux invités à l'Ambassade de Madagascar sise à l'Ile Maurice à cette occasion. Une minute de silence a aussi été observée en mémoire des victimes de l'attentat à la grenade qui s'est malheureusement produit ce dimanche dans la capitale pendant les célébrations de la fête de l'indépendance.


WOMEN'S FORUM MAURITIUS 2016
Meeting the climate challenge for SIDS and Africa
20-21 June 2016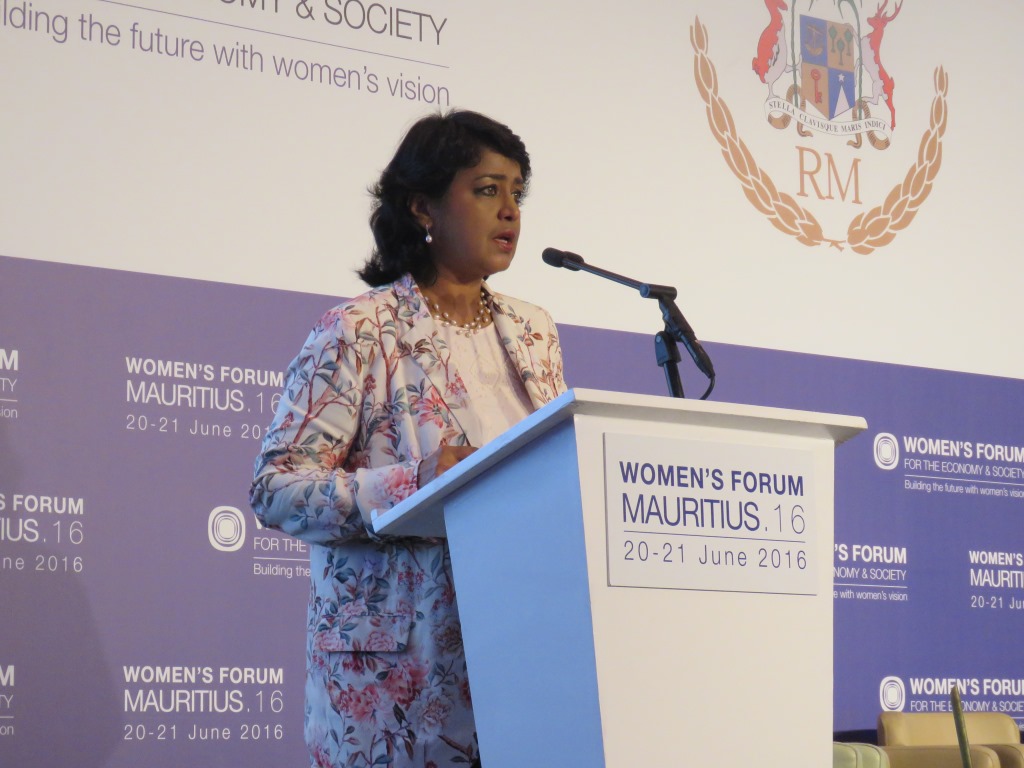 Her Excellency President Ameenah Gurib-Fakim welcomed participants at the international Women's Forum meeting held in Mauritius this week (20-21 June) for a truly global conversation on the theme of "Meeting the Climate Challenge for SIDs and Africa". H.E. Coles and Australian Fair trade expert Ms Karen Mapusa joined speakers from across Africa and the Globe for debate, sharing and presentations on issues including the importance of Biodiversity; Water and Sanitation Challenges; the role of innovation in Agriculture; Womens' leadership in Health and STEM, and many more. The key message: Women's leadership, vision, and ingenuity are essential if we are to better protect the world's biodiversity and advance climate action. Organisers have expressed interest in taking the forum to Australia in the future, following the success of meetings beyond the forum's home (Deauville, France), in locations so far including Dubai, Mexico and Mauritius (2016) and South Africa (2017). Stay tuned to continue the conversation for the Womens Forum on Economy and Society.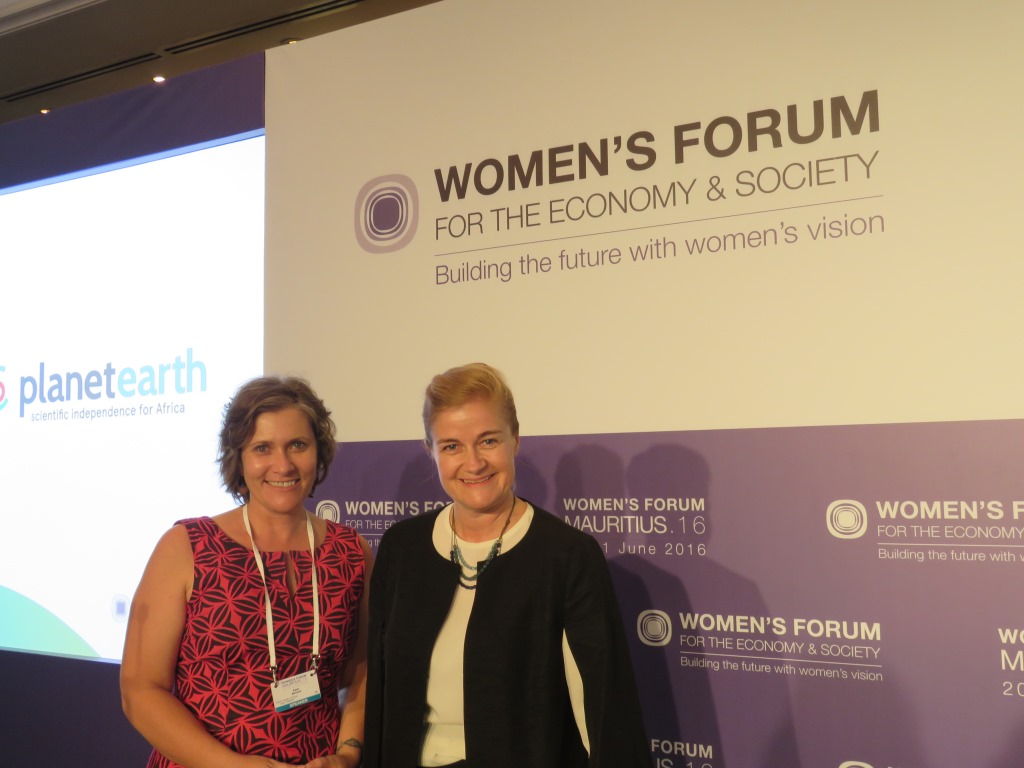 H E Susan Coles with Australian Fair Trade Ms Karen Mapusa
All Australian Rugby 10s Final in Mauritius!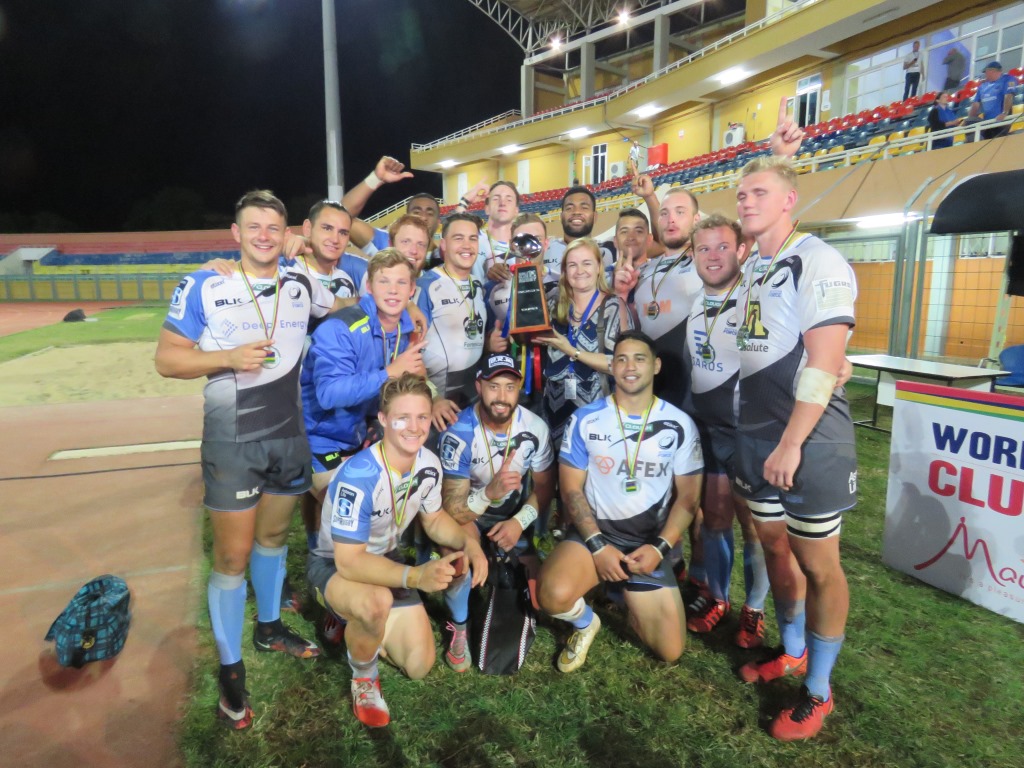 Perth's Western Force Emerged Triumphant in all-Australia Final of World Cup Rugby Tens held 18-19 June. While France, South Africa, Italy, and the Pacific were present for Mauritius' inaugural World Club Rugby 10s tournament on the weekend, Canberra's Brumbies were tipped as the side to beat.
After an exciting day of international rugby, two Australian teams: ACT's Brumbies and Perth's Western Force met in the final. Although going into the final match as the 'underdogs', Western Force played amazing defense and showed great courage to emerge the winners.
While Australian rugby was the victor, Mauritius played host to this fantastic new event and had a taste of world class international rugby at its best.



Following its success, this event should be a feature on the international sporting calendar for years to come.
Congratulations to the Western Force, runners up the Brumbies, conference organizers and all the teams and their supporters!
Passport Services

From 1 July 2015 all passport applications must be lodged in person at the Australian High Commission. Applications sent by courier or post will not be accepted.
From 1 July 2015 all passport applications lodged outside of Australia will incur an additional processing fee of AUD100 (adults) or AUD50 (children). See more
Lodging your application
You will need an appointment to lodge your Australian passport application.
Applications may be lodged between 8:30 to 15:00 Monday to Friday
Please note that child applications should be lodged in person by a parent or person with parental responsibility for the child. The parent or person lodging the application is not required to be an Australian citizen, but will need to bring photographic proof of their own identity to the appointment. Children do not have to attend the lodgement interview.
Please contact us on +230 202 0160 to make an appointment.
To apply for a passport :
1. Complete your form online at www.passports.gov.au
2. Print the completed application form, sign within the signature box and date
3. Obtain two passport photos (see photo requirements),
4. Contact us to lodge your application by appointment. Bring your signed form, photos, fee payment, most recently issued passport and any other necessary original documentation (as listed on the application form) to your appointment.
New passports are usually issued within 3 weeks of receipt of a complete application.