Australian High Commission
Mauritius
High Commission address: 2nd Floor, Rogers House, 5 President John Kennedy St, Port Louis - Telephone: 202 0160 - Fax: 208 8878
Australian High Commission, Port Louis
Follow us on Facebook / Suivez-nous sur Facebook
To learn more about Australia's engagement in Mauritius, Seychelles, Madagascar and Comoros, follow us on: www.facebook.com/ahcportlouis

Pour découvrir les actualités australiennes à Maurice, Seychelles, Madagascar et Comores, suivez nous sur: www.facebook.com/ahcportlouis
---
Call for Applications - Direct Aid Program (DAP)
Applications for funding under the Australian High Commission's Direct Aid Program (DAP) are now opened. The Australian High Commission encourages NGOs and local government agencies from Mauritius, Rodrigues, Comoros, Madagascar and Seychelles to send project proposals for consideration by latest 15 August 2015.
DAP is a small grants scheme designed to assist community organisations working in fields such as poverty alleviation, education, sanitation, health, human rights, rural development and conservation.
Projects must have a tangible and direct development outcome. Priority will be given to proposals that help alleviate poverty in a sustainable way; contribute to skills development; promote women's social and economic empowerment; address significant community health issues; and/or support the needs of children, youth, disabled persons and other disadvantaged groups.
Organisations can apply for funding of any amount up to AUD60,000 per project.
DAP funds are project based and ARE NOT used for items such as: salaries, purchase of property (including vehicles, land, or a building), rent, electricity charges, transport, international travel, office running costs, other administrative and organisational costs such as general promotion or monitoring and evaluation, micro-credit schemes, commercial ventures or cash donations.
Applications should be submitted in English. Please complete the DAP Application Form and send this to the High Commission with requested information including any invoices / quotes for the items outlined in your proposal. (DAP normally operates by funding specific quotations. If this does not apply to your project please ensure that your proposal has a complete budget.)
Completed applications can either be mailed or sent by email to: The Direct Aid Program Coordinator, Australian High Commission, 2nd Floor, Rogers House, President John Kennedy Street; Port Louis, ahc.portlouis@dfat.gov.au (Note: while email submission is preferred, please note that emails exceeding 4mb will not be received).
For any additional information, kindly contact: Yasmina Hosanoo, Senior Political/Public Diplomacy Officer, Australian High Commission 2nd Floor Rogers House President John Kennedy Street Port Louis Tel: (230) 202 0167, Email: ahc.portlouis@dfat.gov.au
---
HMAS ANZAC, first Australian Navy Ship, visit to Mauritius after 14 years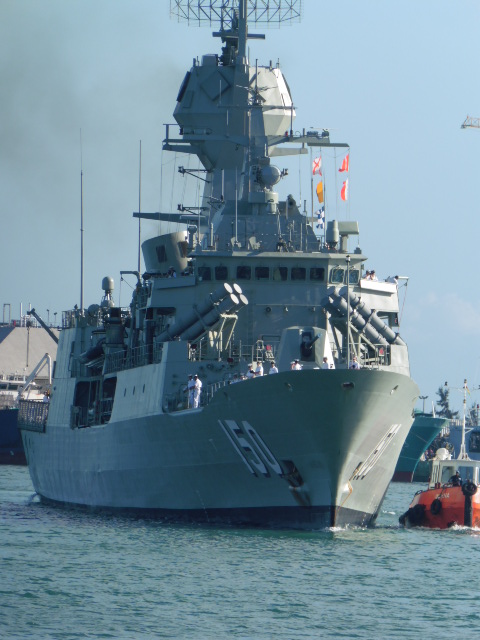 HMAS Anzac arrived in Port Louis on 17 July, the last foreign port of her NORTHERN TRIDENT deployment.
Anzac departed Sydney in March, and has transited the Southern and Indian Oceans, the Red Sea, Suez Canal, the Mediterranean Sea and the North and South Atlantic en route to Port Louis.

The ship has represented Australia at Centenary of Anzac events in the Sea of Marmara, Cape Helles, Gallipoli, Italy, Malta and South Africa, along with D-Day commemorations at Normandy.
This visit provides opportunity for the maritime forces of both Indian Ocean nations to work more closely together, and HMAS Anzac will host a 'Women in Uniform' mentoring session, providing an opportunity to share experiences between uniformed women from both nations. Members of Anzac's crew will also participate in a sporting afternoon with the Mauritius Coast Guard.
HMAS ANZAC entering Port Louis Port accompanied by the Mauritian National Coast Guard
The Australian High Commission in Mauritius has been at the centre of establishing the local 'Women in Uniform' network in order to raise the profile of the role of women in defence and policing.

Together with the High Commission, Anzac will co-host an official reception, a commemorative service for Australian-Mauritian servicemen from the First World War and also for the sole Australian serviceman buried in Mauritius – Navy Bandsman Arnold Partington, from HMAS Canberra I, who died during the Second World War.
Anzac's Commanding Officer Captain Mal Wise, OAM, RAN, described the significance of the visit to his crew.

"Throughout her deployment Anzac has paid tribute to the 102,000 Australians who have given their lives in service over the past century," Captain Wise said.
"In Mauritius we complete the commemorative aspect of our mission by participating in a service for approximately 40 Australian-Mauritians who fought in the First World War, and paying our respects to one of Navy's own from the Second.
Australia's High Commissioner in Mauritius, Her Excellency Ms Susan Coles, said that many Australians and Mauritians were unaware of the historic relationship between the nations, particularly in times of war.
"Bandsman Partington's niece, Mrs Jenni Chinner, has flown from Australia for the events, and the niece and nephew of a First World War Australian-Mauritian Gallipoli soldier, Corporal André Dalais, will also participate," she said.
Media Note: Imagery of the deployment and this visit is available at http://images.defence.gov.au/S20150611.
Media contact:
Yasmina Hosanoo, Australian High Commission 202 0160

---
2015 Mining and Gender Study Tour: Three delegates from Madagascar represented the region.
Gender being an integral part of its development policy, the Australian Government regularly sponsors study tours in the context of women empowerment and capacity building programs.
A Mining and Gender study tour was held in March 2015 and this year, the focus was on making mining governance more gender sensitive and socially inclusive. The tour started with a Mining and Gender Forum, and community site visit in South Africa, before proceeding to Australia where participants had the opportunity to visit mining operations and meet with various Australian mining stakeholders including community groups.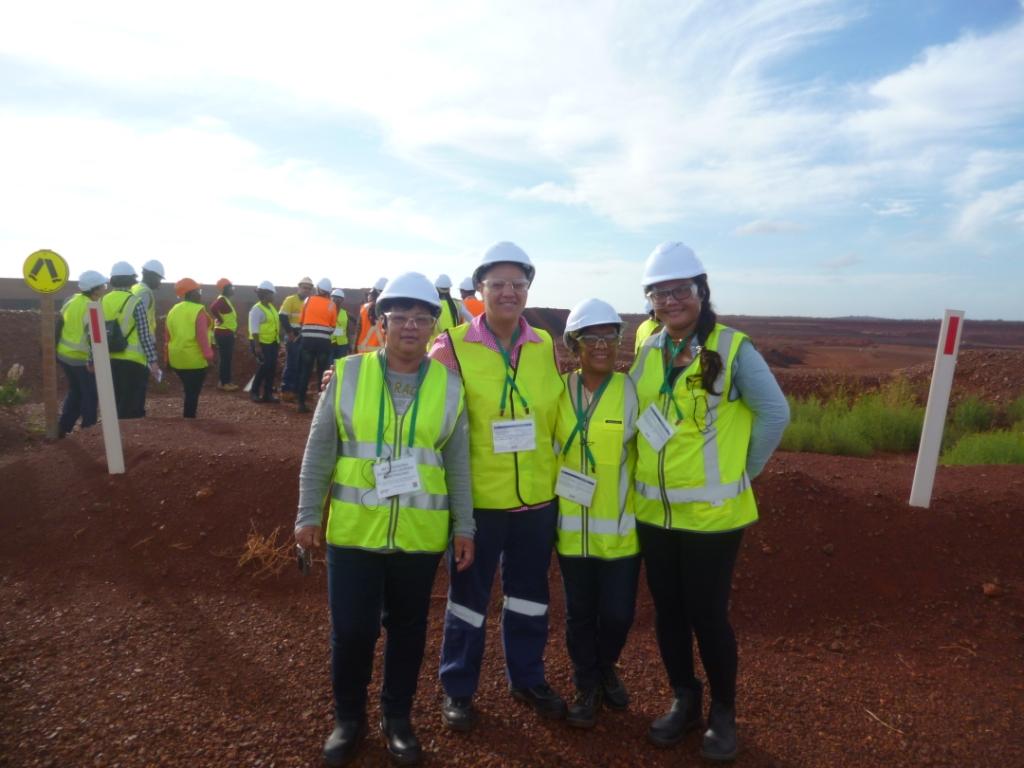 Visiting FMG Pilbara mining site
---
Australia and Mauritius Cooperate in Renewable Energy
On 15th June 2015, Australian energy company, Carnegie Wave Energy Ltd, signed Memorandum of Understanding with the Mauritius Research Council which will focus on identifying the opportunities and development pathways for commercial wave energy plants for Mauritius, capable of providing a sustainable source of electrical power and desalinated water. The signing ceremony took place in the presence of the Hon. Pravind Kumar Jugnauth, Minister of Technology, Communication and Innovation; the Hon. Premdut Koonjoo, Minister of Ocean Economy, Marine Resources, Fisheries, Shipping and Outer Islands; Mr Tim Sawyer, CEO of Carnegie Wave Energy Ltd and the Australian High Commissioner Her Excellency H.E. Ms Susan Coles.
A half-day seminar was also organised on the same day to inform relevant stakeholders on the progress of wave energy and micro grid requirements and discuss the way forward for further opportunities for collaboration.

---
Madagascar- Australia Alumni Association: Open Day, 5 June 2015, Antananarivo

In the first event part of an ambitious program, the Australia Alumni Association of Madagascar « A3 Mada » held an open day in the presence of Malagasy Minister of Mines and Petroleum and other officials of both public and private sectors on 5 June 2015 at Panorama Hotel, Antananarivo.

The event was an opportunity for A3 Mada to officially launch its website and for its members to make presentations on their Australian experience and their post- award achievements in their respective careers.

The A3-Mada was launched during the visit of Australian Minister of Foreign Affairs Hon Julie Bishop to Madagascar in September 2014 .

Mr Désiré Alphonse Rakotondravaly President of A3 Mada addressing the floor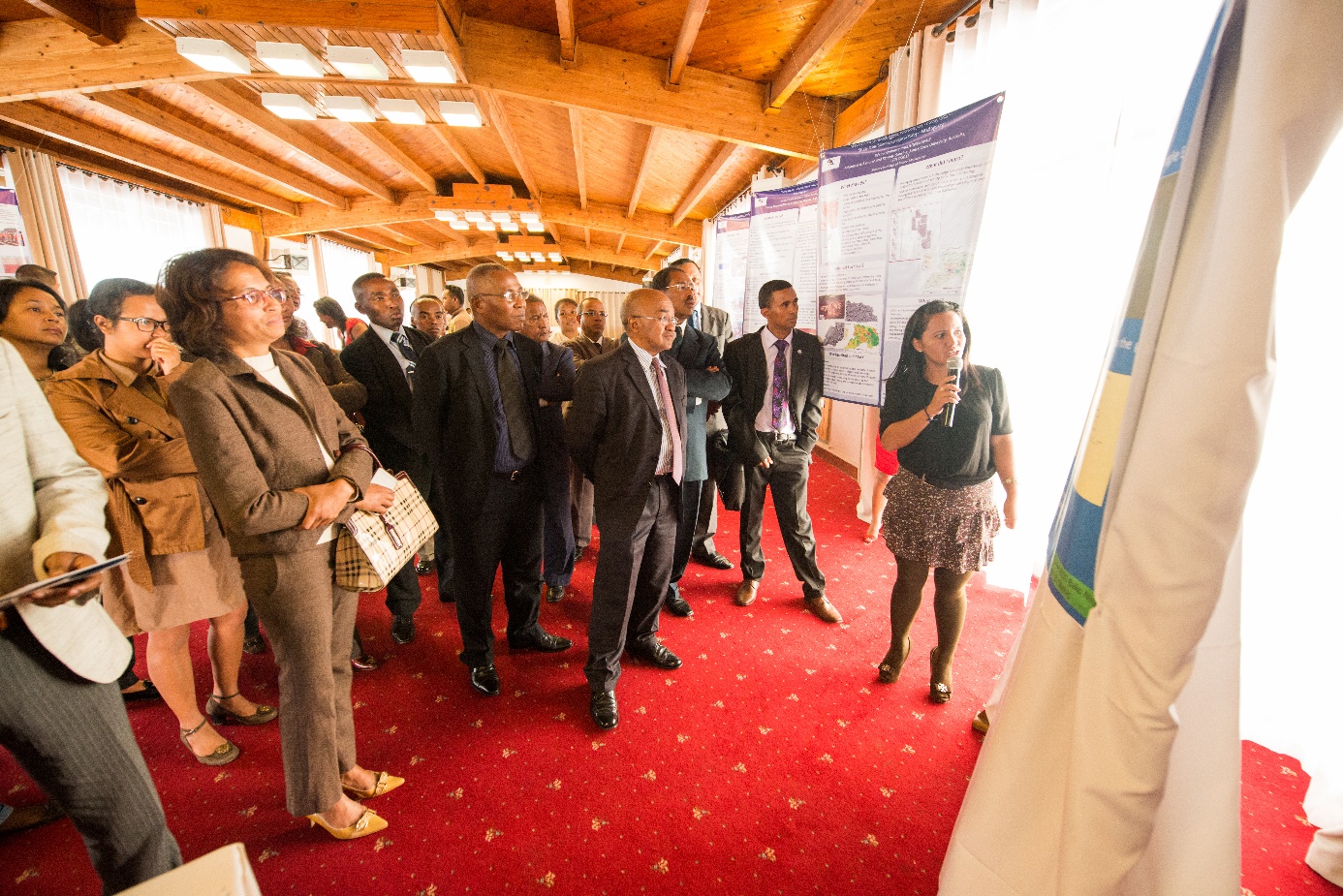 H.E Mr Joëli Valérien Lalaharisaina, Minister of Mines and Petroleum listening to a presentation by Australian alumni




---
Passport Services
From 1 July 2015 all passport applications must be lodged in person at the Australian High Commission. Applications sent by courier or post will not be accepted.
From 1 July 2015 all passport applications lodged outside of Australia will incur an additional processing fee of AUD100 (adults) or AUD50 (children). See more

Lodging your application

You will need an appointment to lodge your Australian passport application.
Applications may be lodged between 8:30 to 15:00 Monday to Friday
Please note that child applications should be lodged in person by a parent or person with parental responsibility for the child. The parent or person lodging the application is not required to be an Australian citizen, but will need to bring photographic proof of their own identity to the appointment. Children do not have to attend the lodgement interview.
Please contact us on +230 202 0160 to make an appointment.
To apply for a passport :
1. Complete your form online at www.passports.gov.au
2. Print the completed application form, sign within the signature box and date
3. Obtain two passport photos (see photo requirements),
4. Contact us to lodge your application by appointment. Bring your signed form, photos, fee payment, most recently issued passport and any other necessary original documentation (as listed on the application form) to your appointment.

New passports are usually issued within 3 weeks of receipt of a complete application.

---
Visit to the Seychelles of Royal Australian Navy Rear Admiral Trevor Jones, OAM, Commander of the Joint Task Force 633 in the Middle East and Indian Ocean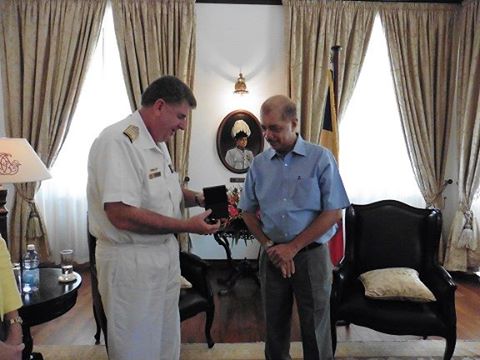 The visit to the Seychelles of Royal Australian Navy Rear Admiral Trevor Jones, OAM, Commander of the Joint Task Force 633 in the Middle East and Indian Ocean this week was a great success. It was an opportunity for the Seychelles to express its appreciation to the Australian Government for its role in assuring the maritime security of the Indian Ocean. Admiral Jones, for his part noted Seychelles' leadership role among African nations and small island states, in particular with new initiatives such as promoting the Blue Economy globally, renewable energy and the development and promotion of a regional approach to combatting transnational crime. Discussions with new Home Affairs Minister Bastienne and new Foreign Minister Morgan presented allowed for updates on anti-piracy initiatives and new regional threats of narcotics, arms and people trafficking.
Two of four newly appinted Mininsters of the Seychelles Government are Australian University Alumni. Minister Charles Bastienne, new Minister for Home Affairs, seen here meeting Australian Admiral Trevor Jones, completed his MBA at Murdoch University, Perth. Minister Michael Benstrong, in the new portfolio of Investment, Entrepreneurship Development & Business Innovation (at Right), is an Alumni of Edith Cowan University. These links will further strengthen the warm relations and cooperation between our two countries.



---
Official Visit to Comoros by Ambassador Coles
Ambassador Coles who was on an official visit to the Comoros from 4 to 7 May 2015, called on new cabinet ministers and other dignitaries in the context of bilateral relations and regional cooperation.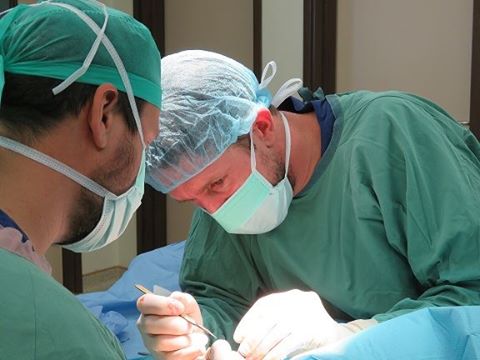 A four-member team of Australian NGO- Australian Doctors for Africa (ADFA) led by Dr Lachlan Milne was in the Comoros for orthopaedic operations and training of local staff. During a visit to El Maarouf hospital in Moroni, Ambassador Coles had the opportunity to get a first-hand perspective of the tremendous work being done by the ADFA team.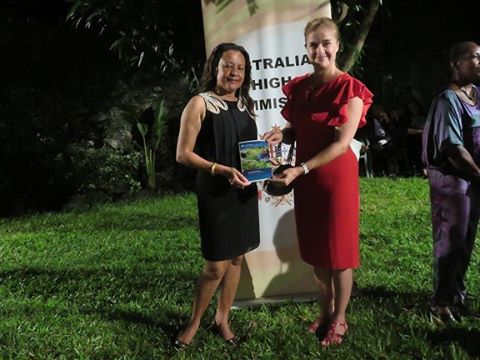 Another highlight of the visit was the presentation to Mrs Sitti Chihabiddine, Director of Vaniacom, a booklet "Empowering women" published by the Australian Government on the occasion of the 2015 Women's International Day featuring leading women entrepreneurs who benefited from Australian gender empowerment programs across the world. As one of the prominent and successful entrepreneurs of the Indian Ocean, Mrs Chihabiddine's profile is included in the booklet.


Visit to flower nursery and florists near Moroni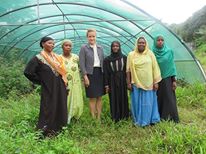 Ambassador Coles also visited several women led initiatives and met with executive committee members of 'Entreprendre au Féminin aux Comores EFOICOM' network and the chairperson of the "Mouvement des Entreprises Comoriennes (MODEC)" in Moroni.

---

Aride Island Nature Reserve Solar Energy Project with the Australian High Commission, WHL Energy and UNDP-GEF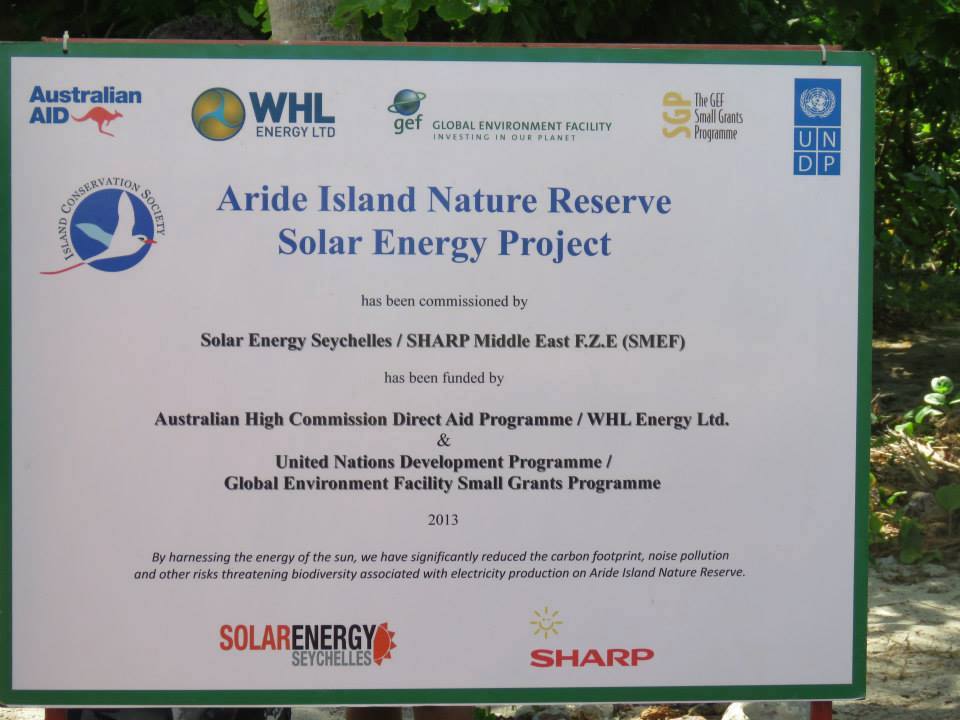 The Australian High Commission, WHL Energy (Perth), and UNDP-GEF have joined forces with the Seychelles Island Conservation Society who own and manage the Aride Island Special reserve. The project goal has been to make this isolated bird conservation settlement self-supporting with solar energy for the rangers and volunteers houses and researchers' energy needs.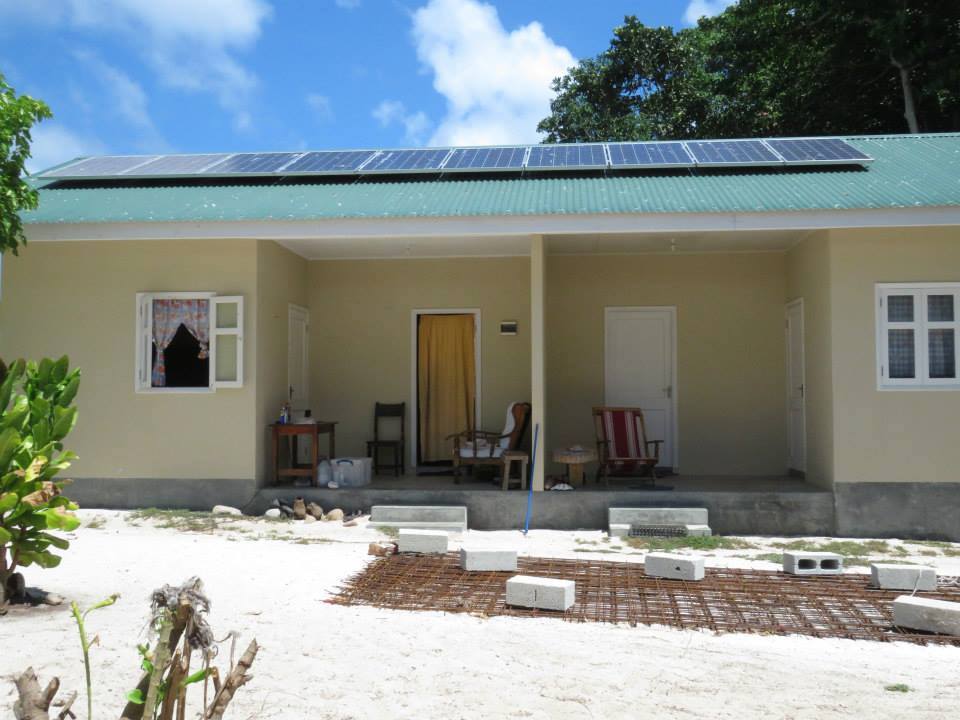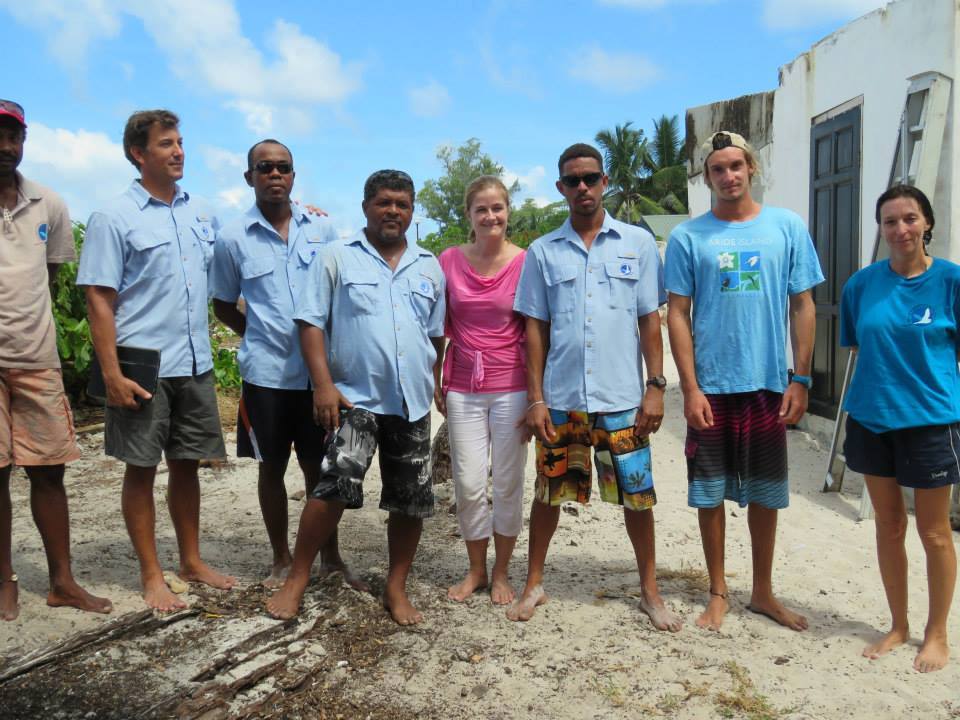 The wonderful team of ICS employees and volunteers who are preserving this jewel of the Indian Ocean for birdlife, turtles, endemic plants ...and ensuring it is clean and green with only renewable energy
---
2015 Reintegration Workshops in Australia
Semester One Reintegration workshops for graduating students were held in April in Adelaide, Melbourne and Brisbane. Awardees from a variety of Australian institutions were invited to attend, including 5 from Mauritius and Seychelles. At the workshops, Awardees were given the opportunity to reflect on and modify their reintegration plans through the Reintegration Planning Portal, ensuring alignment of Award- acquired skills and knowledge with their planned development contributions for implementation on return home. In addition, they were able to further build their soft skills in areas of leadership, managing resistance to change, and stakeholder communication.
The workshops also provided Awardees with detailed information on their Alumni transition, including opportunities for engagement as part of the Alumni Network across Africa. For graduating scholars from Mauritius and Seychelles, active Alumni Associations already exist in their home countries

---
Anzac Day 100 Commemorated in the Indian Ocean.

Mauritius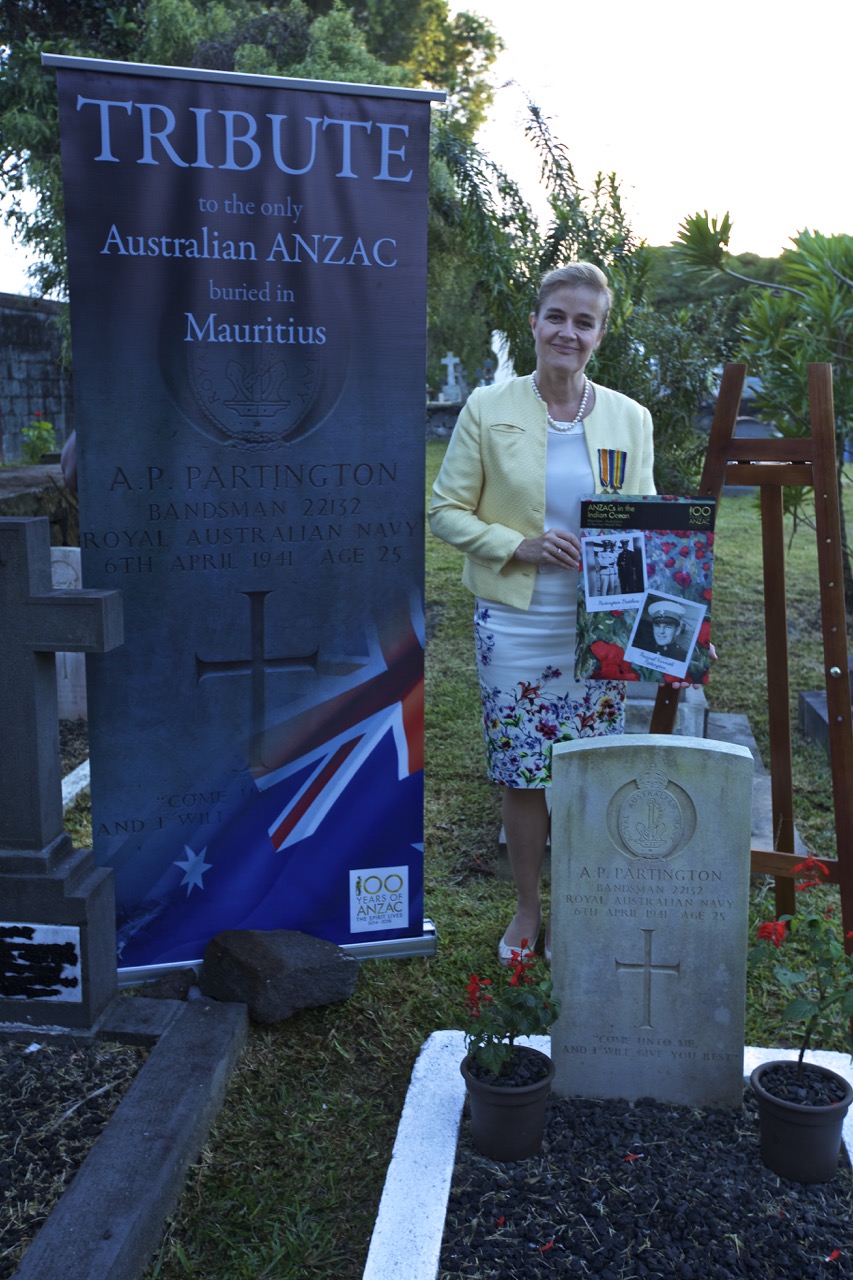 A very moving service was held in Mauritius today at the Phoenix Cemetery, to mark the 100th anniversary of ANZAC Day. Mauritians who served in Gallipoli with the AIF & NZIF were remembered. At the graveside of the sole ANZAC laid to rest in Mauritius - World War Two Royal Navy Bandsman Arnold Pearce Partington, the Ode to the fallen was read, and a wreath with Eucalyptus and Roses was laid. The words of Arnold's niece Jenni, with whom High Commissioner Coles spoke this week by telephone at her home in Queensland, added a special personal link to this Mauritian-Australian story. "My Dad Perce, who himself survived the sinking of his navy ship and 3 years as a POW on the Burma Railway would be so moved to know his brother is being honoured today so far from home."






















Seychelles
After Saturday's service. in Mauritius, H E Coles and Political & Public Affairs officer Yasmina Hosanoo flew to the Seychelles in order to have a second ANZAC service on Sunday morning, April 26. The service and gunfire breakfast to follow was well attended by the Australian and New Zealand communities in the Seychelles, with Kiwi Jessica Kerr laying the wreath on behalf of her countrymen and women.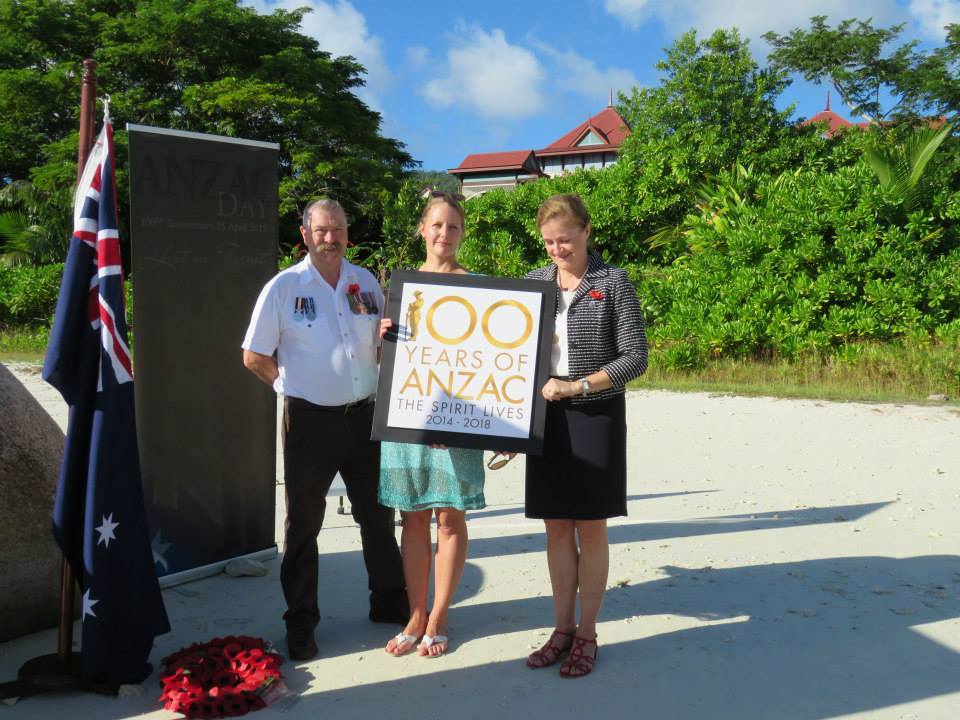 ANZAC Day Service Eden Island, Seychelles, commemorating 100th Anniversary of Gallipoli landings, Seychelles, April 26,2015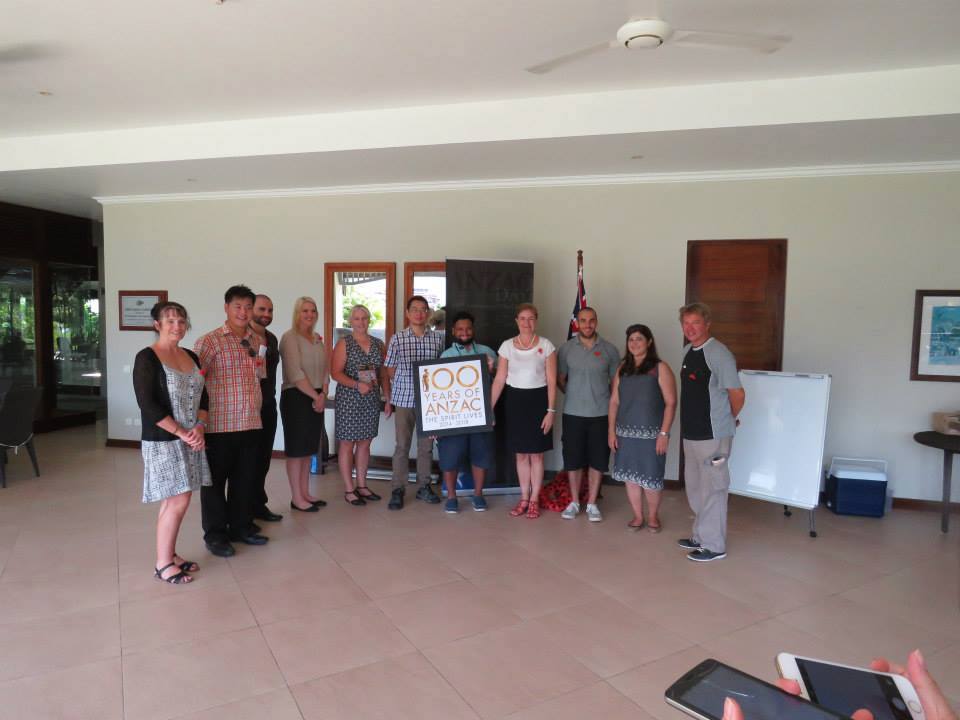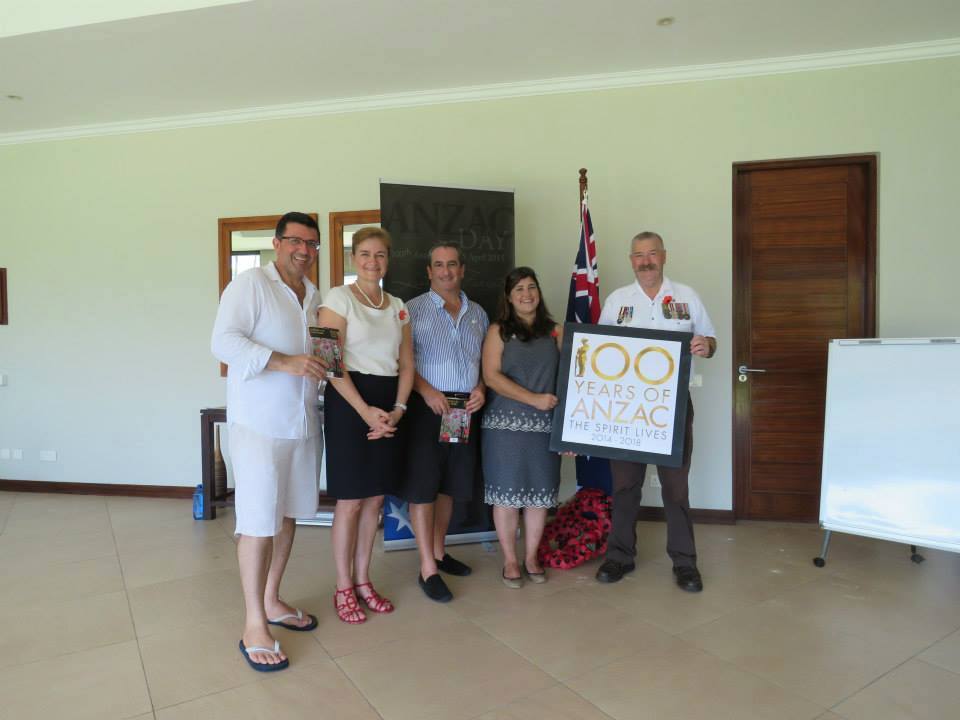 From left to right:Australian secondees to Seychelles Revenue Commision and visiting Tax Colleague.Consular wardens


---
Australian Higher Education and Charles Telfair - a strong partnership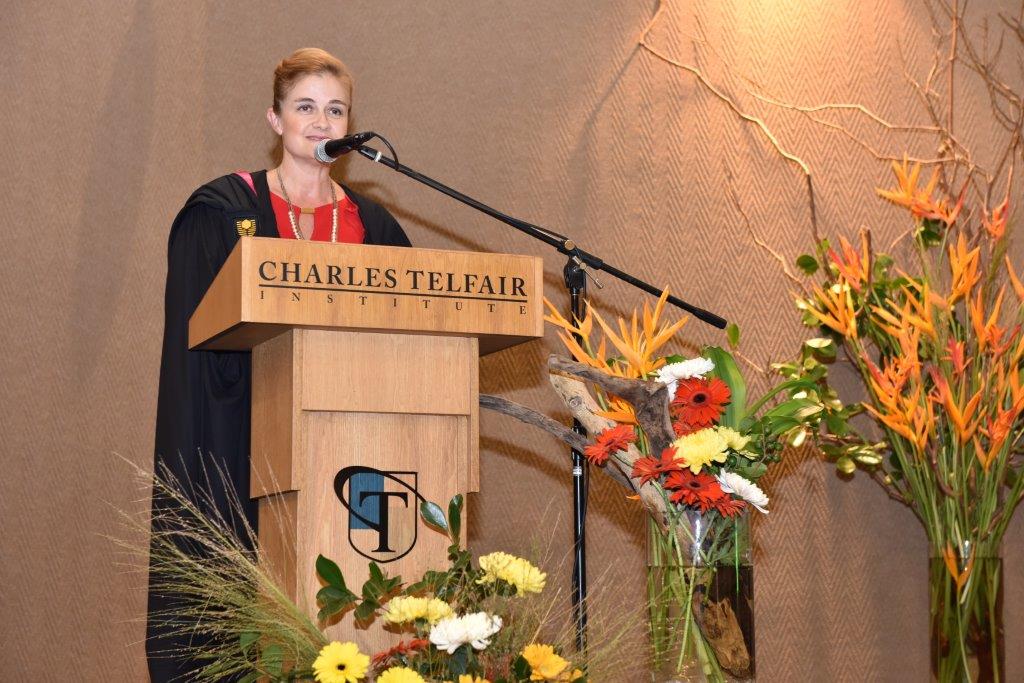 HE Coles gave the keynote address at the CTI- presentation of Western Australia's Challenger Institute of Technology and
Central Institute of Technology Diplomas ceremony on Thursday 16 April, 2015.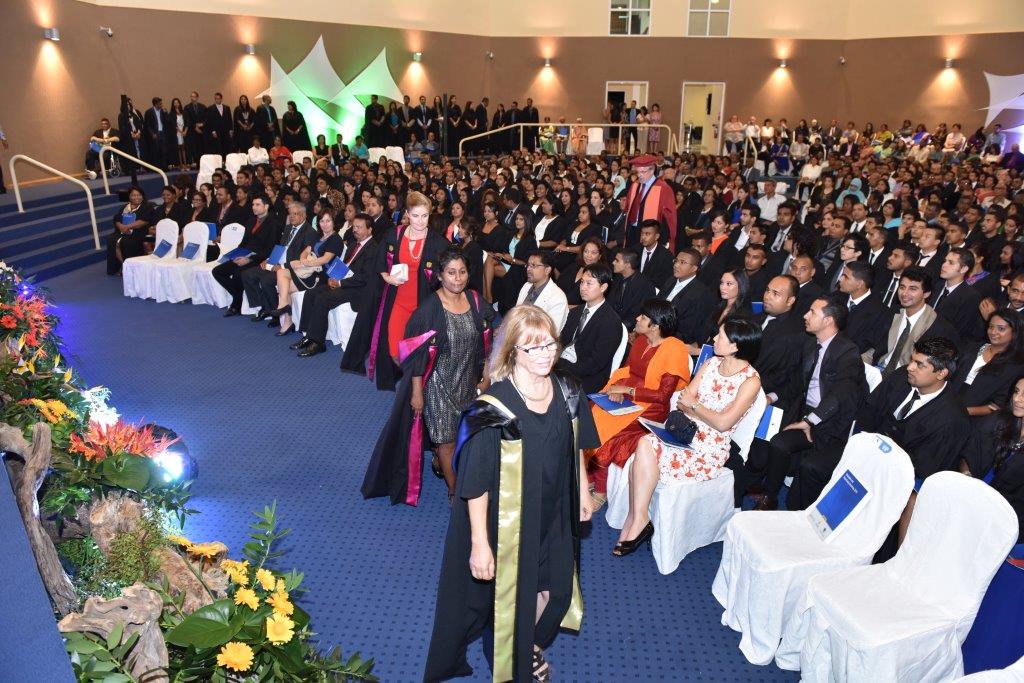 ---
Australian Festival 2015 in Images: A Great Success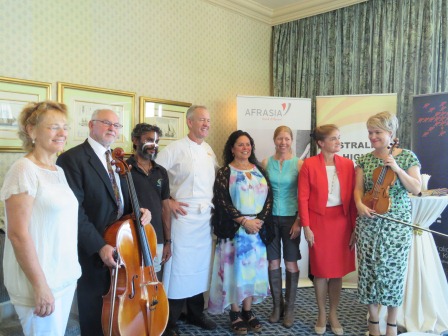 High Commissioner Coles with guests from Australia at the launching of the Australian Festival at the Labourdonnais Hotel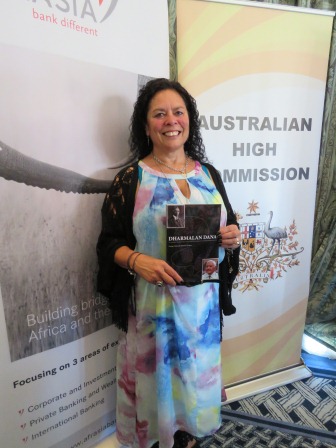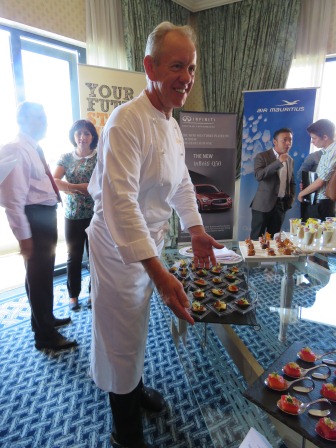 From left to right: Australian author Robyne Nelson presenting her book. Australian chef Chris Taylor from Fraser's restaurant, Perth and Krys Smith, wine maker from Adelaide.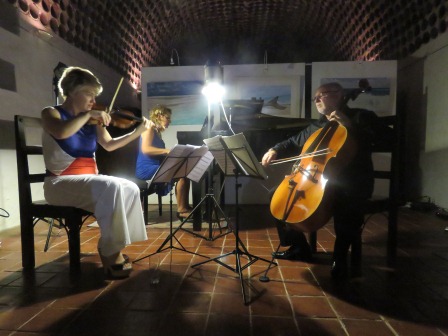 Trio magellan performing at the Australian cultural evening at Moulin Cassé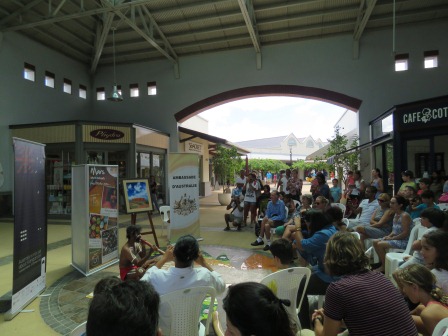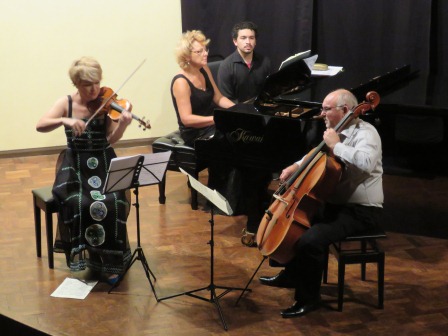 From left to right:Public performance by Heath Bergersen at the Cascavelle Shopping Centre. Excellent performance by Trio Magellan at the Conservatoire Francois Mitterand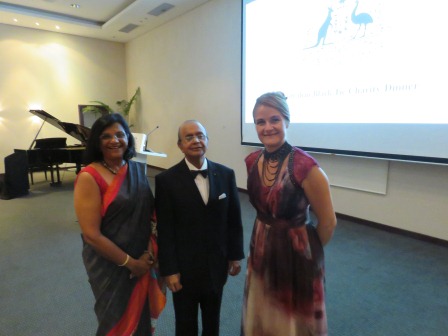 High Commissioner Coles with President and Vice President of SACIM (Society for Children inoperable in Mauritius) at Australian charity dinner.
---
Macquarie Bank and Mauritius Government Letter of Intent on Offshore Oil Bunkering Project Announcement: 26 March 2015

The Australian High Commission in Mauritius is pleased to announce today that leading Australian quoted investment private bank Macquarie has today received a formal Letter of Intent from the Mauritian Government inviting them to establish offshore oil bunkering facilities here in Port Louis. The project is valued at $100 Million Australian Dollars.
At a ceremony attended by the Hon. Ashit Gungah Minister of Industry, Commerce, and Consumer Protection; Officials of the Ministry of Finance; the Mauritius Ports Authority and HE the Australian High Commissioner Susan Coles, a copy of the Letter of Intent signed by Minister Gungah has been handed over to Macquarie Project Leader, John Young.
The ceremony was also attended by Macquarie's local partner Scott Shipping, and Atlantic Energy Consulting, who have been the promoter of this project.
HE Susan Coles said after the ceremony: "We welcome this project which will really put Mauritius on the Indian Ocean shipping and bunker trading map. This partnership between Mauritius and Australia's Macquarie Bank, which has funded and managed multiple major infrastructure projects internationally and was selected by the World Bank in 2014 as a global infrastructure partner of choice, is one of the first concrete, commercial projects announced under the port development pillar of the "Ocean Economy." This will bring our close bilateral ties as partners in Indian Ocean maritime trade and shipping, and as fellow members of Indian Ocean Rim Association, which Australia currently chairs, even closer."
The development of this project, following a lengthy bilateral consultation process, has been a matter of keen interest to the Australian High Commission as part of its economic diplomacy strategy in Mauritius. During her visit to Mauritius last year, Australian Foreign Minister Julie Bishop engaged with Mauritian authorities on the Ocean Economy, including at a major event also attended by the Ports Authority, private sector and IORA representatives.
HE Coles added: "I know Minister Bishop will welcome the progress in this project today. The signing of the Letter of Intent this week, is especially auspicious as it is "Australia Week in Mauritius," with our major festival promoting our trade, cultural, education and commercial ties; and also Budget week, with Minister Lutchmeenaraidoo focussing on the Ocean Economy on Monday night." She added "today's development really shows that Mauritius, with its new pillar of the Ocean Economy is "open for business." Development of the port and related services for maritime traffic in the Indian Ocean will create major opportunities for Mauritian SMEs, and many new jobs. And Australia and our Macquarie Bank are pleased to be a part of that. "
---
Seychelles Women in Police Network Celebrates International Womens' Day
To celebrate IWD in the Seychelles, the Women in Police network, launched with Australian support last year (by AFP Agent Tina Westra and Seychelles Superintendant of Police Christel Marie with the support of Australian Customs official Amanda Skinner) held a series of workshops and activities. About 20 female police officers held a working bee in the garden of the Seychelles Aged care village and then decorated the grounds. A lunch to celebrate was held with the police women, elderly women residents and their carers, around fifty attendees, including the Police Commissioner Ernest Quatre.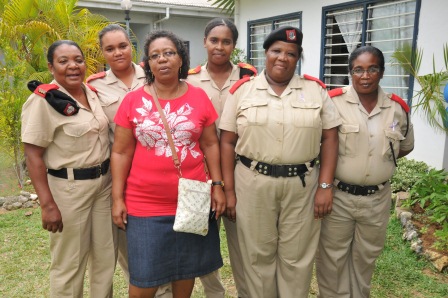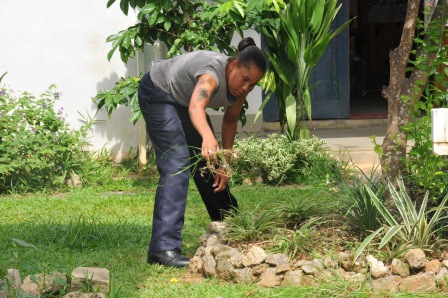 ---
Australia celebrates International Women's Day in the Indian Ocean
When the High Commission in Port Louis was asked by Canberra to nominate women in the Indian Ocean who have achieved highly in their fields and epitomise Gender Empowerment in action, we nominated three from our patch. Professor Romeela Mohee, who has a string of firsts - First woman Lecturer and Dean in Engineering at UM, first woman Vice-Chancellor in Mauritius and a passionate believer in education for girls and women in the sciences and technical fields. In Madagascar, Daniella Randriafeno, Former Minister of Mining and now Executive Secretary of Extractive Industries Transparency Initiative, Madsgascar. Then there is Madame Sitti Chihabiddine, an entrepreneur who runs the only female-led export business in the Comores Islands. After learning English on an Australia Award Scholarship she is now exporting Vanilla to Australia, Europe and Japan.
All three were chosen, from dozens of nominations made by our High Commissions and Embassies around the world, to be among the 20 stories of empowered women featured in booklets, schools kits, and social media of the Australian Foreign Ministry, in celebration of International Women's Day.
To learn more about these amazing women, please click on the links below:
Professor Romeela Mohee
Ms Sitti Chihabiddine
Ms Daniella Randriafeno
---
Celebrating International Women's Day with Women in Uniform Network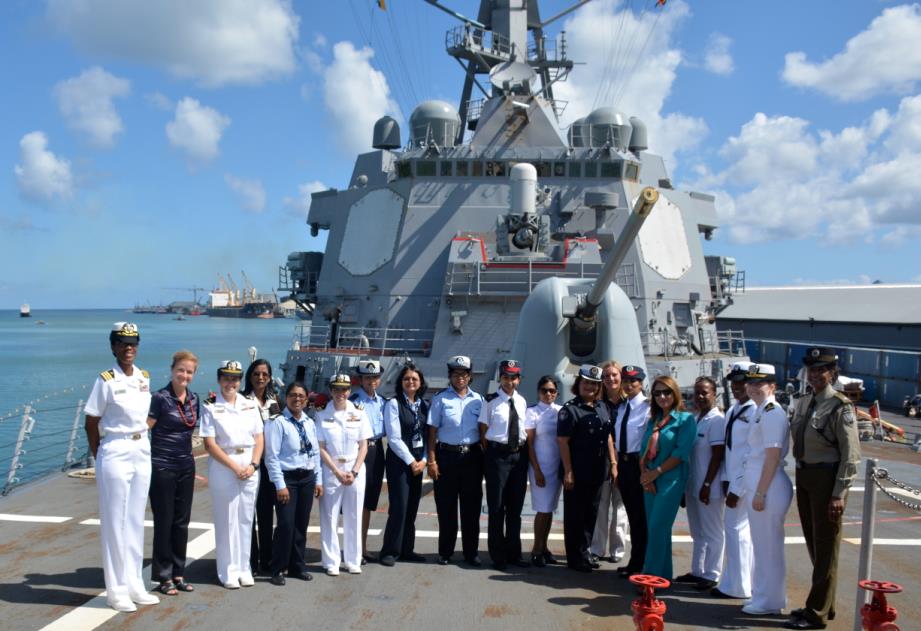 The Australian High Commission sponsored Women in Uniform network, founded one year ago on International Women's Day 2014, visited the USS Oscar Austin DDG 79 Naval Vessel, of which the Second in Command is a Woman in Uniform, Commander Janice Smith, Executive Officer. She has around 55 women on board the vessel, and members of the Mauritius Women in Uniform network were impressed and inspired by the variety of their roles, from intelligence offices to engineers and weapons "Firing" officers.
The visit was arranged in conjunction with the US Embassy in Mauritius, who have also been lending their strong support to the WIU network, with special thanks to Jennifer Cartaino NCIS and Andy Frost, Security officer

---
Australia Day Celebrated in Mauritius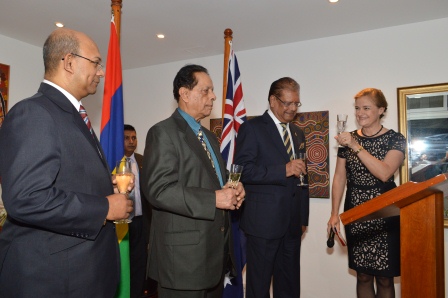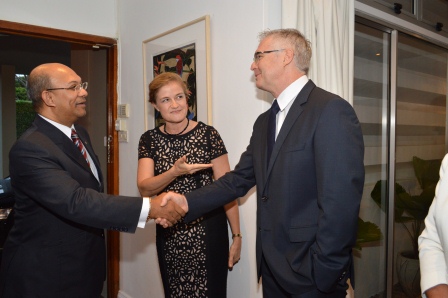 Official Australia Day toast - From left to right: Foreign Minister, the Hon. Etienne Sinatambou; Prime Minister, the Rt Hon. Sir Anerood Jugnauth; President, H.E. Mr Rajkeswur Purryag and H.E. Ms Susan Coles
H.E. Ms Susan Coles and her spouse, Prof. Daniel Fitzpatrick welcome Foreign Minister, the Hon. Etienne Sinatambou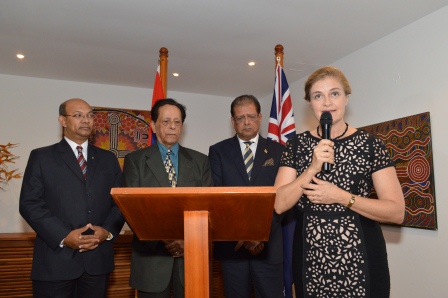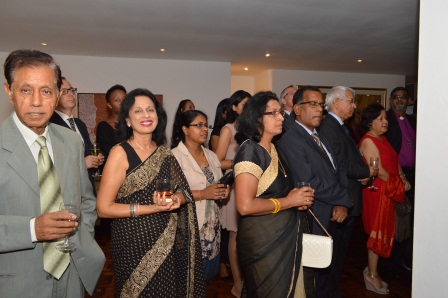 Australia Day Speech - From left to right: Foreign Minister, the Hon. Etienne Sinatambou; Prime Minister, the Rt Hon. Sir Anerood Jugnauth; President, H.E. Mr Rajkeswur Purryag and H.E. Ms Susan Coles
The Speaker of the National Assembly, the Hon. Mrs Maya Hanoomanjee accompanied by her spouse and guests
---
High Commissioner Coles met New Minister of Ocean Economy, Marine Resources, Fisheries, Shipping and Outer Islands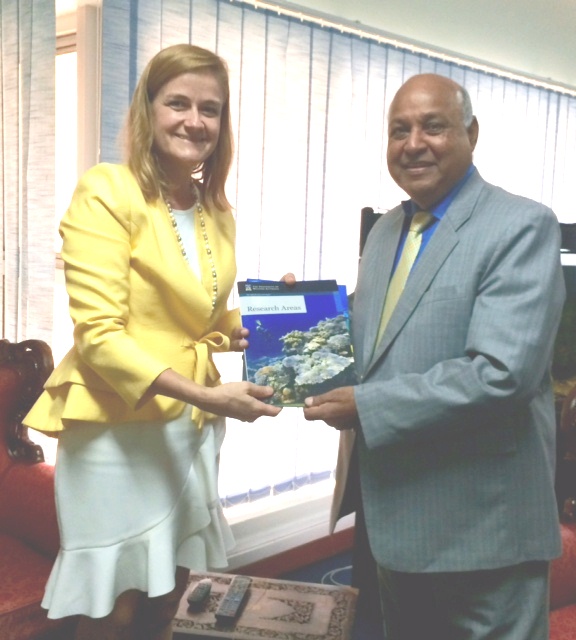 On 20 January 2015, HE Coles presented booklets of the University of Western Australia's Centre for Indian Ocean to the Minister of Ocean Economy, Marine Resources, Fisheries, Shipping and Outer Islands, the Hon. Premdut Koonjoo. An MOU, focussing on the new Faculty of Ocean Studies of the University of Mauritius, was signed by Professor Collin, Deputy Director of the Oceans Institute of the University of Western Australia and Vice Chancellor Mohee of University of Mauritius during the Australian Mnister of Foreign Affairs visit to Mauritius in September 2014.
---
Australia Day, 26 January 2015

Future Chasers: Australian Experiences, Global Impact
As Australia Day approaches, Australia Unlimited has developed a dynamic social media campaign to let people of all nations learn more about the positive contribution Australians, and an Australian education, makes to the global community.
To mark this year's Australia Day, Australia Unlimited is asking everyone to cast their minds forward to a future shaped and led by the next generation, exemplified by 19 'Future Chasers'.
A number of these 'Future Chasers' all of whom have studied in Australia,have supported or worked with local communities across Southern and East Africa.
Who are the 19 Future Chasers? Why have they been selected?

Australia Unlimited has partnered with Jan Owen and the Foundation for Young Australians (FYA) to utilise their research into 15 young Australians of courage, imagination and will. These young Australians are extraordinarily talented, inspiring and hard-working young people achieving amazing things in fields such as philanthropy, industry, the arts, and technology.
They have also partnered with Future Unlimited, Australia's international education brand to profile four alumni who, having studied in Australia, are considered future chasers in their countries of Sri Lanka, Indonesia (and the USA), Malaysia and India.
These four young leaders are contributing locally and internationally, using Australian experiences and education to inform their own social impact and discovering a future of unlimited potential.
This brings us to 19 individuals. Together they are a diverse group who share much in commun: they'redigitally-savvy,tertiary educated and have astrong sense of community. But most of all they have an uncompromising resolve to contribute in a meaningful way to the world, as well as the place they love to call home.
These are our future chasers. Find their stories today at Australia Unlimited
---
Ambassador Susan Coles visited Madagascar from 3 to 5 December 2014.






Australia Awards Networking Workshop, 3 December 2014, Carlton Hotel, Antananarivo

At a workshop on the Australia Awards Africa held at Carlton Hotel, Antananarivo on 3 December 2014, participants comprising officials from the public and private sectors were briefed on the requirements for the Australian programmes. The workshop highlighted, inter alia, the masters' level scholarships which have been opened for the first time to Malagasy candidates.
Following the workshop, the call for applications at masters' level for Madagascar for academic year 2016, has been exceptionally extended to 16 January 2015.
In Antananarivo, the Ambassador also held follow- up meetings on a number of initiatives discussed during the visit of Australian Foreign Minister Julie Bishop MP to Madagascar in September 2014.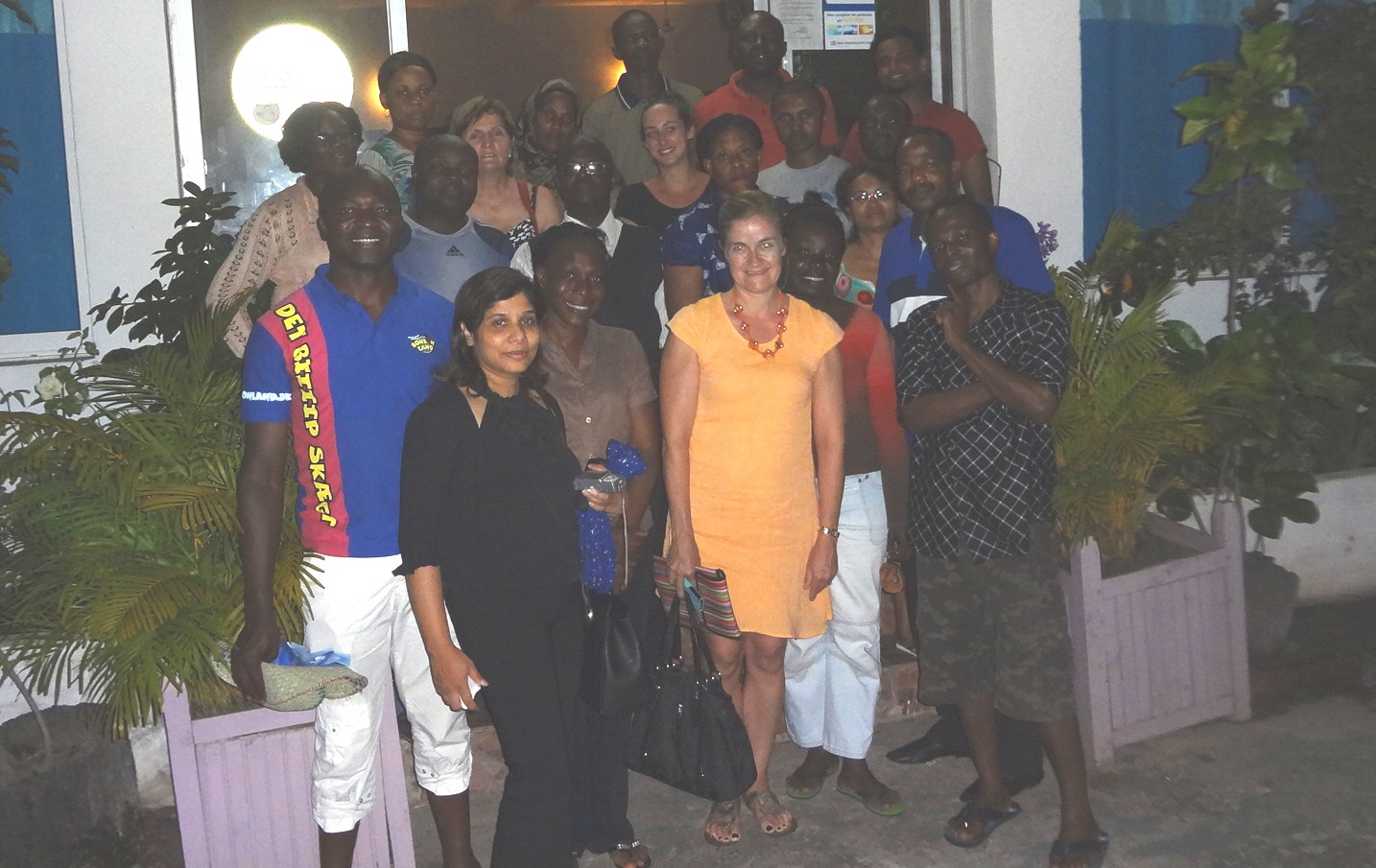 Ambassador Coles with participants of the University of Queensland MSEIM Group in Fort Dauphin








During her stay at Fort Dauphin (SE), Ambassador Coles accompanied a group tour of the University of Queensland/Australia Awards Africa Fellowship course on managing the Social and Environmental Impacts of Mining in Africa (MSEIM) to the Commune of Ampasy Nahampoana. This Commune has successfully implemented a participatory budgetary approach through the use of royalties and taxes derived from the mining sector.

Ambassador Coles at the QMM Mineral Sand Mining Site in Fort Dauphin



In Fort Dauphin, the Ambassador also visited the mineral sand mining site of QIT Madagascar Minerals (QMM), a Rio Tinto/ Government of Madagascar joint venture and the NGO Azafady which is involved in poverty alleviation and conservation programmes in the region.







Work sample of St Luce Stitch-NGO Azafady DAP funded project


---
AUSTRALIAN HIGH COMMISSION PARTNERS WITH UK & SEYCHELLES IN COMBATTING GENDER BASED VIOLENCE
The Australian and UK High Commissioners to the Seychelles partnered with Genderlinks Mauritius, the Seychelles Ministry of Social Affairs & Gender, and the University of Seychelles, in delivering a workshop on 2-3 December on measuring gender based violence in the Seychelles, as part of the 16 days of International Action Against Violence Against Women. An attitudinal survey of 300 Seychellois, designed to give an indication about personal and community attitudes toward domestic violence, was examined and discussions held with the participation of social, education and gender sectors, faith leaders, independent researchers, the Seychelles Ambassador for Women and Children H.E.Erna Athanasius, police, officers from the National Statistics Office and NGOs. The law and social science faculties of University of Seychelles generously assisted with the survey and workshop and will be part of on-going efforts to address the challenges of identifying and addressing what is, unfortunately, a global issue. REFLECs3 kindly hosted the workshop at their facility in Victoria.



AHC Coles, Loga, UK HC Skoll and Seychelles Ambassador for Women and Children H.E. Erna Athanasius at reception for Empowering Women in Business events at UK HC Residence




AHC Coles speaks at opening of Genderlinks workshop, held at REFLECS-3





Loga Viraswahmy and Marie-Josee Bonne, Special Adviser in the Department of Social Affairs addres the Genderlinks workshop

---
Australia Awardee – changing the mindset towards people with disability in the Seychelles
A 2015 recipient of an Australia Awards Scholarship to study a Master of Disability Policy and Practice at Flinders University in Australia Mrs Melina Amédée, a speech pathologist from the Seychelles, hopes to be a positive agent of change on her return.
Speaking on International Day of People with Disability, Mrs. Amédée outlined her passion to see her country address the issues and constraints faced by people with disability.
"As a speech pathologist at the main hospital in the Seychelles, I work with people with disability on a daily basis so I am constantly exposed to what they face, which is how I developed an interest in this area," Mrs Amédée said.
"In the Seychelles there is definitely a lack of trained expertise in the area of disability-inclusion, specifically to ensure that people with disability have the same right, opportunities and quality of service as their able peers. On completion of my Award, I want to be the person who comes back to my country, to bring forth additional knowledge and skills and promote inclusivity; be an agent of positive change."
Mrs Amédée said she felt blessed to be awarded an opportunity to study in Australia; one of the few countries in the world she believes is working hard towards disability-inclusivity.
She said disability inclusion and, more broadly, social inclusion, was still a new concept in the Seychelles but that the Government had recently approved an inclusive education policy, which she had input into. The policy is yet to be legislated.
"As the world's population grows, the number of people with disabilities increases, hence it is pivotal that we strongly consider social inclusion policies and practices, and as Awardees we should take what we learn in Australia and implement these in our communities and countries on our return" commented Mrs Amédée.
She further added that "when given the appropriate support, and when necessary modifications are made to the
rt, and when necessary modifications are made to the
pulation grows, the number of people with disabilities increases, hence it is pivotal that we strongly consider social inclusion policies and practices, and as Awardees we should take what we learn in Australia and implement these in our communities and countries on our return" commented Mrs Amédée.
She further added that "when given the appropriate support, and when necessary modifications are made to the
rt, and when necessary modifications are made to the